Welcome
Welcome — Your Input is Important!
Thank you for your interest in the US-20 Ashton to SH-87 JCT Planning and Environmental Linkages (PEL) process.
The purpose of this online meeting is to provide information about the PEL process, the Draft Purpose and Need , and potential alternatives for improving US-20 between Ashton and the SH-87 Junction.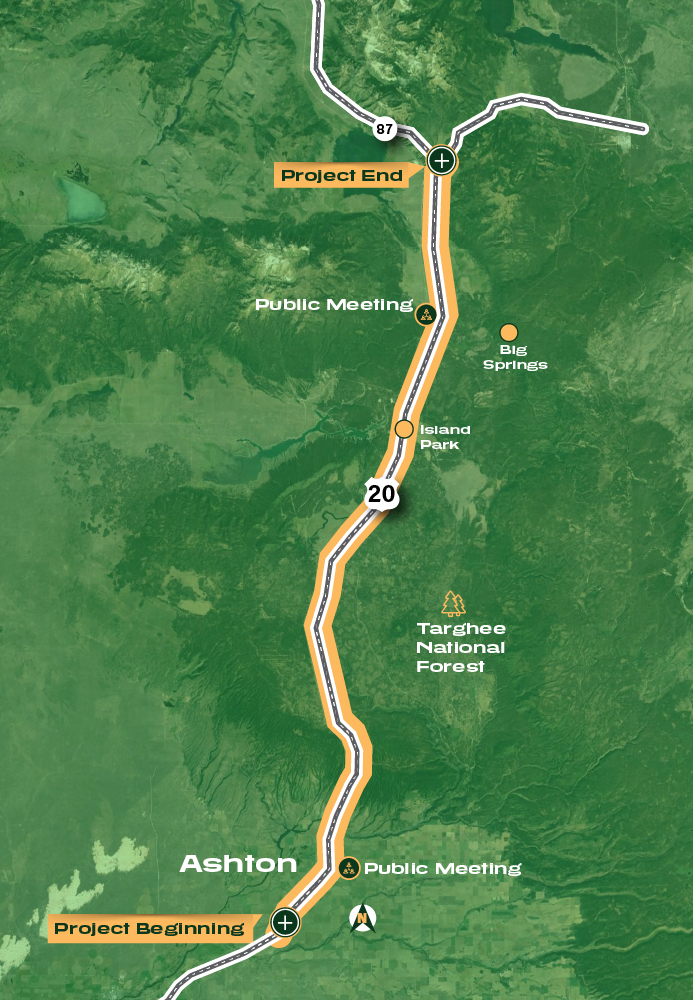 Click image to enlarge
How to Navigate:
Click on the arrows on the bottom left and right side of your screen
Use the navigation menu at the left of the screen to revisit any part of the meeting
The pages are intended to be viewed in order to provide information about the study. However, you may use the tabs on the left side of the page to select any page
---
How to Participate:
Click through the slides to learn more about the project
Comments

Provide your comments at any time by clicking the " COMMENT" button at the top right of the screen.
You can close the form to continue through the slides. Please make sure to hit the "Submit" button to confirm that your comment is sent to the project team.

The entire session should take less than 15 minutes to complete.
Introduction
What is the US-20 Ashton to SH-87 JCT PEL?
The Idaho Transportation Department (ITD) is initiating this PEL process to analyze US-20 between Ashton and the SH-87 Junction and will look at ways to improve safety and reduce congestion.
Increasing traffic is causing congestion and crashes. Improvements are needed to maintain a safe roadway and reliable connection to adjacent communities, Yellowstone National Park, and the region.
The US-20 Ashton to SH-87 Junction PEL is a separate project from the Targhee Pass Environmental Assessment (EA). The EA was completed and a Finding of No Significant Impact (FONSI) was issued in late 2020. Decisions made as part of the EA will not be revisited during the Ashton to SH-87 Junction PEL project.
What is involved in the PEL Process?
Watch the video below to learn more about the steps that take place during a Planning and Environmental Linkages (PEL) Process.
Draft Purpose & Need
Draft Purpose
The purpose of the US-20 Ashton to SH-87 project is to enhance highway safety and operations by:
Improving capacity and Level of Service
Improving access management
Improving regional freight movement
Decrease the severity of the crashes
Draft Need
The need for improvements to the US-20 corridor is to:
Address existing deficiencies such as:

Travel time
Congestion
Delays
Safety
Meet modern design standards
Extend corridor design life

Prepare for future growth, economic development, and tourism in the region
Increase freight mobility
Evaluate multi-use solutions that provides a range of options for users
How does US-20 function now?
Increasing congestion is contributing to traffic crashes in the area.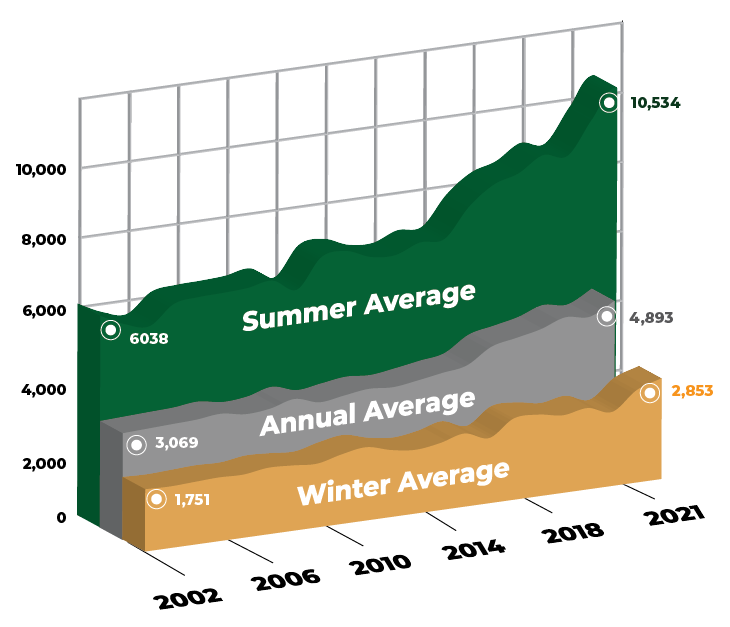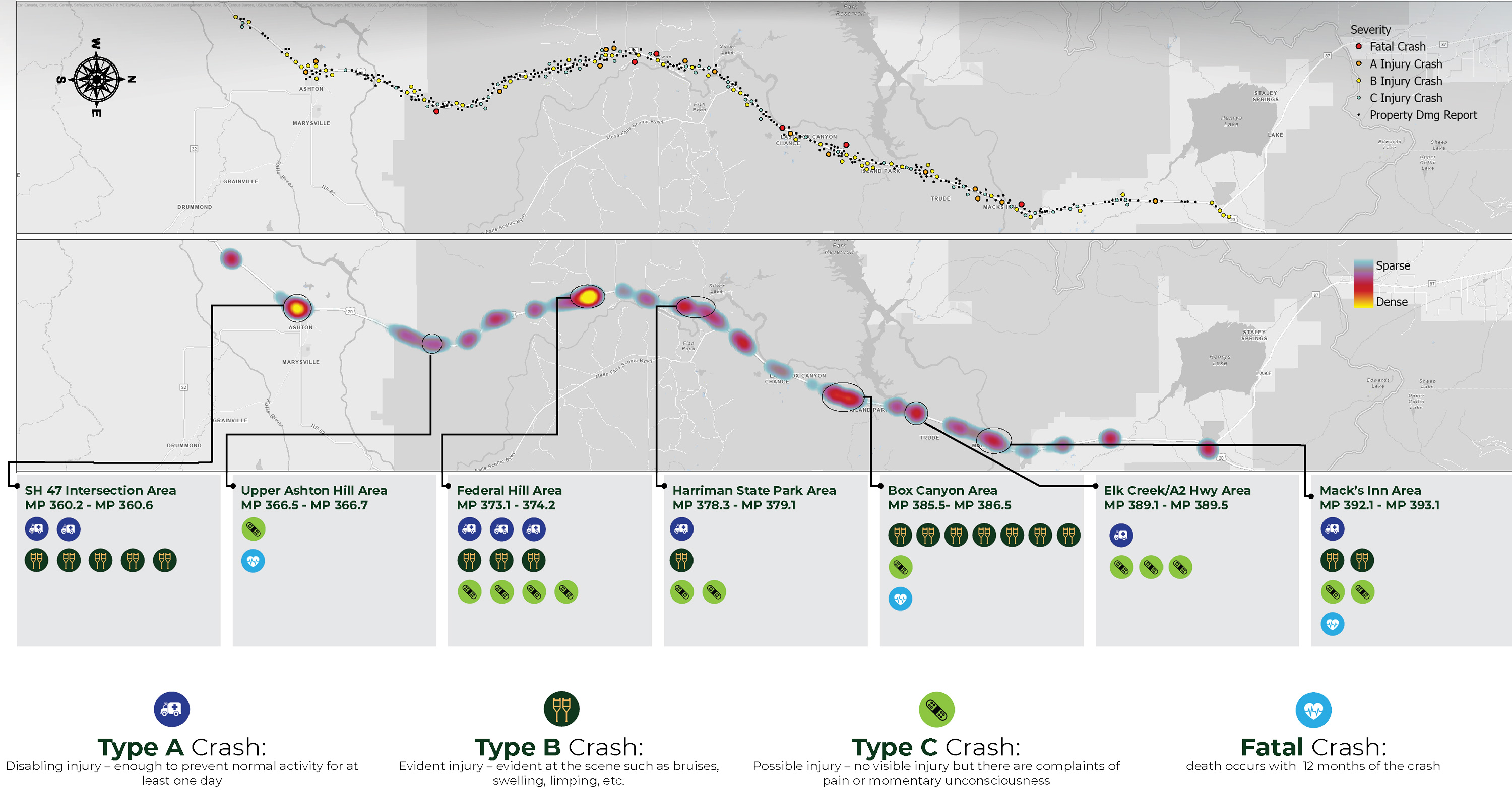 Click image to enlarge
How will project solutions be developed?
Watch this video to learn more about the data-driven approach ITD is taking to develop potential improvements for US-20.
How are Alternatives Evaluated?
Alternatives will be evaluated through a screening process to determine how well they meet the Draft Purpose and Need of the project.
Alternatives may include upgrades/changes to the current highway alignment.
Alternatives will consider new routes as well as changes to the existing highway including additional lanes, access control, and location specific safety improvements.
The screening process includes evaluating each alternative based on the following eleven environmental criteria.
| | |
| --- | --- |
| | Visual Resources |
| | Agricultural and Forest Resources |
| | Air Quality |
| | Biological Resources |
| | Cultural Resources |
| | Geology and Soils |
| | Hazards and Hazardous Materials |
| | Hydrology and Water Quality |
| | Land use and Transportation Planning |
| | Noise |
| | Social and Economics Resources |
Where are we in the process?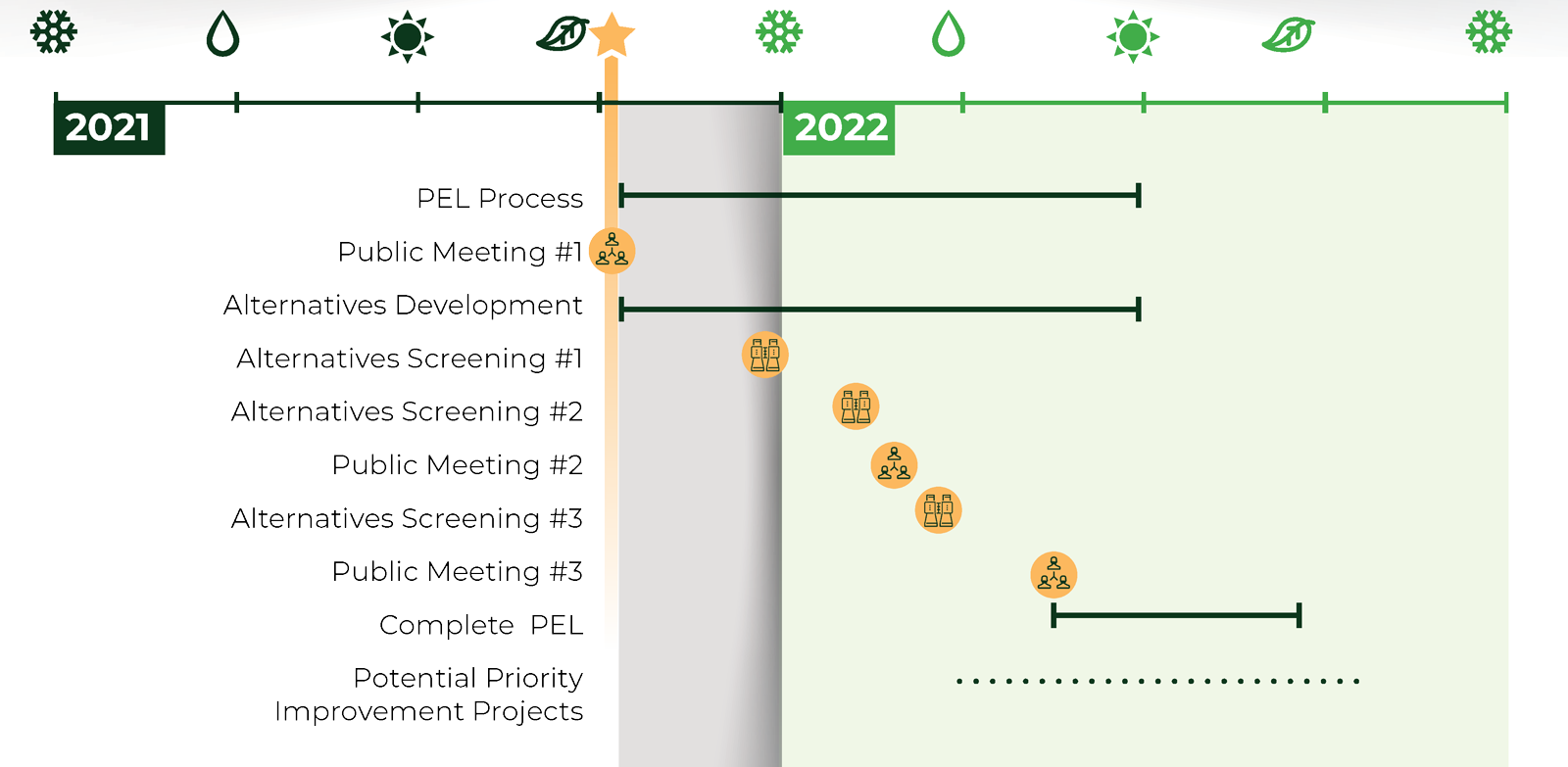 Click image to enlarge
Short-term Improvements to US-20
Click images to enlarge

Two short-term improvements have already been identified and scheduled as projects in the ITIP (Idaho Transportation Improvement Program).
As currently planned these projects could be constructed summer to 2024 or 2025.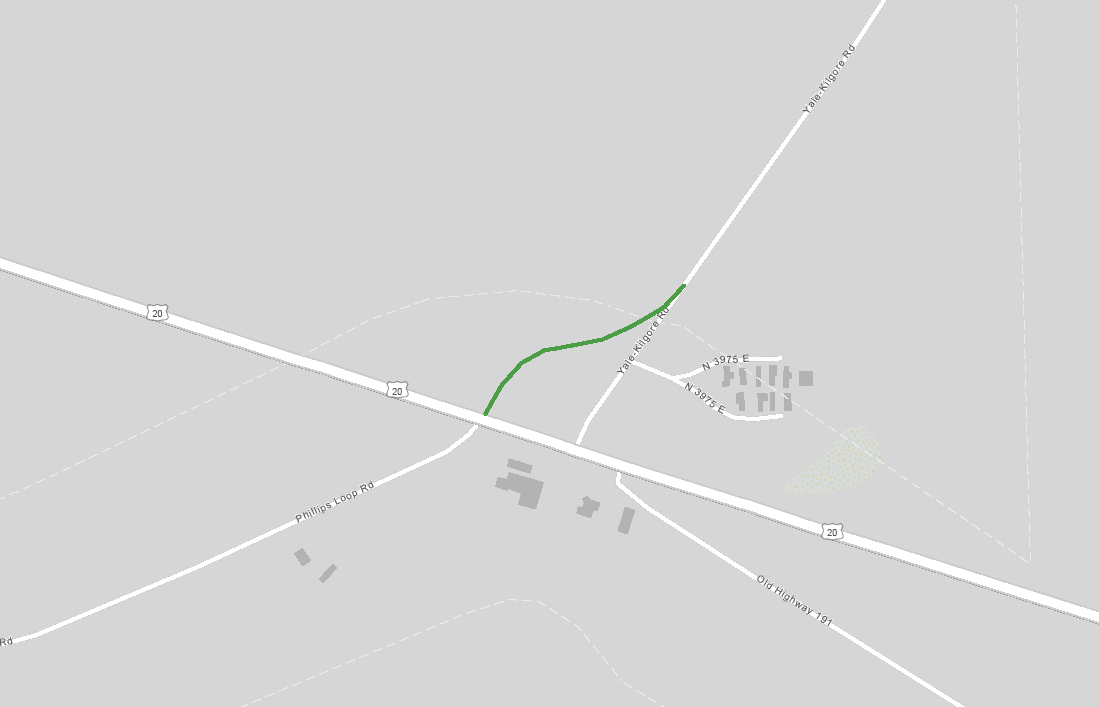 US-20 Elk Creek Intersection (KN23240)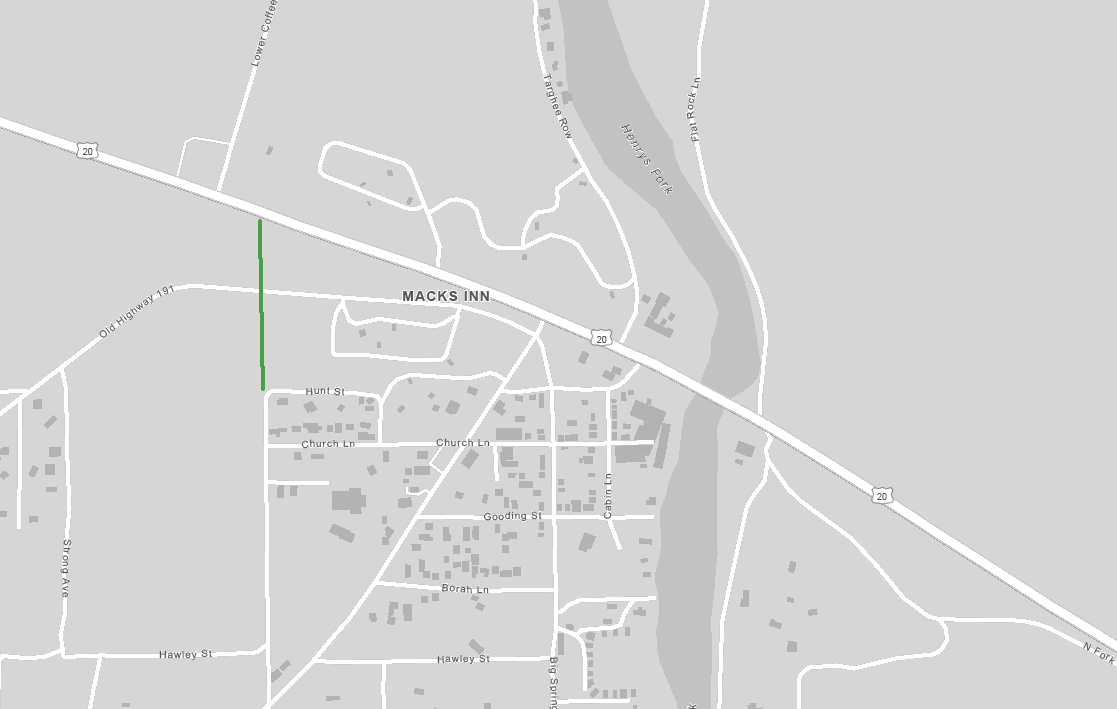 US-20 Mack's Inn Intersection(KN23241)
Green lines are proposed modifications to local road as described in the US-20 Corridor Plan (HDR 2006) and US-20 Corridor Plan Refresh (ITD 2016).
Stay Involved
ITD will actively engage a wide range of stakeholders interested in this corridor to determine how the corridor can be improved to best serve users. ITD will seek public input throughout the PEL process and public involvement will continue through future environmental analysis and design phases.
Public input will be an important part of the decision-making process and will be balanced with technical information and engineering best-practices. Project decisions will include a data driven process, meaning the team will use a scientific process to help develop and screen alternatives.
Comments
If you have questions please contact the project team.
Use the comment button at the top right of this meeting to view the comment form where you can submit comments. You can also submit comments via email to comments@us20ashtonto87.com
or mail them to:
---
ITD
206 N. Yellowstone Highway
Rigby, ID 83442
---
While your comments are always welcome, they can be best utilized if received by October 29, 2021.
Comment